PAYMENT OF STUDENT FEES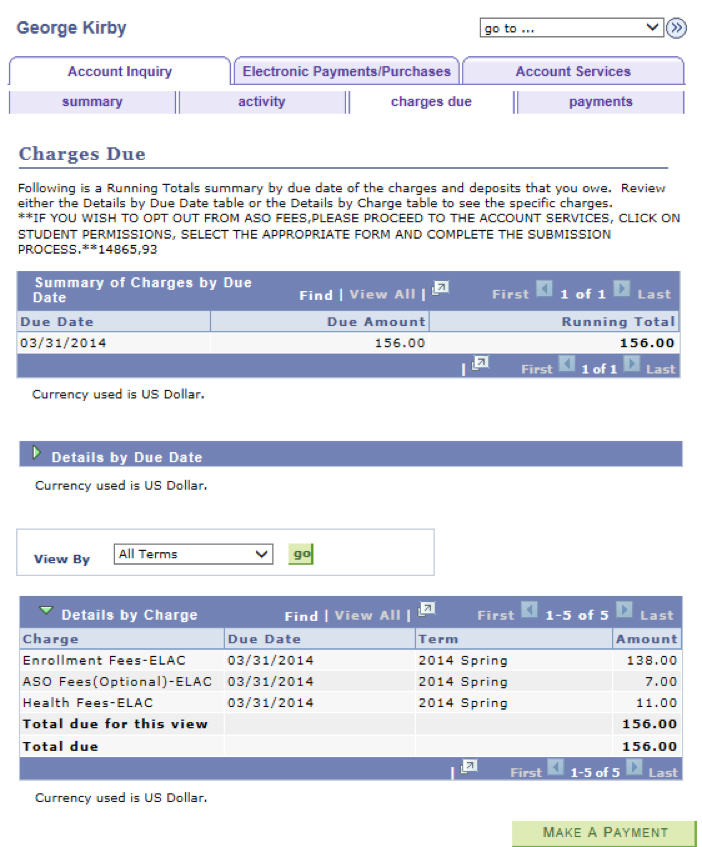 Effective Fall 2017, when the new student information system deploys, students must pay all mandatory fees (including, but not limited, to the enrollment fee and the nonresident tuition fee, where applicable) upon registering in a course.   Students who have not paid their mandatory fees in full prior to the term beginning will be automatically dropped from one or more course(s) for which fees have not been paid on the advertised payment deadline.
Students will be able to view their account balances and payment deadline via self-service. To prevent students from being dropped from courses, for not paying the mandatory fees, scheduled automatic email notifications will be sent to the student's laccd.edu email address, and an alert will be posted on the front page of their Portal.     
Students, whose fees are being paid by another governmental agency, will not be dropped from their courses, if payment has not been received by the foregoing deadlines, so long as the college has received confirmation of anticipated aid from the other governmental agency that payment is pending.  If payment is not received by the other governmental agency, the student bears responsibility for paying the fee(s).       
Students will not be dropped from their course(s) if they:
Are approved and awarded a Board of Governors Fee Waiver (BOGW);
Have anticipated financial aid sufficient to cover all their fees;
Are sponsored by another government agency and the College Business Office has received confirmation of the anticipated aid that payment is pending.
Have a college-approved Payment Plan Contract
If a student is approved for a Board of Governor's Fee Waiver, or have anticipated financial aid, their Account Inquiry page will reflect the award.
Students can pay their fees online by clicking the Make a Payment button on their portal dashboard to pay by credit card or ATM/debit card. Partial payments can be made, however, all mandatory fees due must be paid by the advertised payment deadline. To pay by cash, cashier's check or money order, students must visit the College Business Office.
Optional fees, such as Parking and other miscellaneous fees are due, and payable, at the time of order.